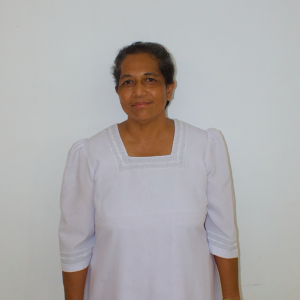 Mercy Maliko
Status
Lecturer in Piula 2017 until present
Lead Researcher for NZ Institute of Pacific Research on Gender Violence in Samoa 2017
Research Affiliate in Centre of Theology & Public issues University of Otago 2017
Current positions:
Lecturer in Ethical thoughts and Social Issues, Christian Education.
Academic qualifications:
Bachelor of Arts (University of Auckland, NZ 1993)
Bachelor of Theology (University of Auckland, NZ 1995)
Certificate in Women Studies (P.T.C Fiji, 1998)
Masters in Theology with Distinction (P.T.C Fiji, 1998)
Doctor of Philosophy(University of Otago, 2015)
Courses/Lectures in:
Sociology
Christian Education
Curriculum Design
Ethical thoughts & Social Issues
Bible Studies – Womens Program.
Publications:
"Christian Faith and Family Violence: A Report for Samoan Communities in New ealand. Web based resource. Centre for Theology and Public Issues." September, 2016.
www.otago.ac.nz/ctpi/resources/otago609049.html
Samoan Translation. "Faatuatuaga Kerisiano ma Sauaga I totonu o Aiga: Ripoti mo Tagata Lautele o Samoa I Niusila." December 2016
www.otago.ac.nz/ctpi/resources/otago609049.html
"A Public Theology Response to Domestic Violence in Samoa Society". International Journal of Public Theology, Vol 10.1(2016) 54-67
"Women in Acts and in Oceania" Chapter in A Commentary on Acts, edited by Yon Gyong Kwon, pp.160-168. London: SPCK, 2012.
"Pacific Women and Conscientization." Pacific Journal of Theology II, no.40(2008): pp.64-84
"The Ministry of the Widow." In Womens Ministries in the New Testament and in Oceania: Six reflection- Action Bible Studies by and for Pacific Islander Women, edited by Lydia Johnson. Dunedin: Manahine Press, 2008.
With Maureen Sier. "Samoan Women and Theological Education." In Samoan Women Widening Choices, Edited by Peggy Faibairn-Dunlop. Suva, Fiji: Pacific Studies, University of the South Pacific, 2003.
Research Interests:
Theology response on domestic violence in Samoa
Theology in Public
Theology response to Social Issues